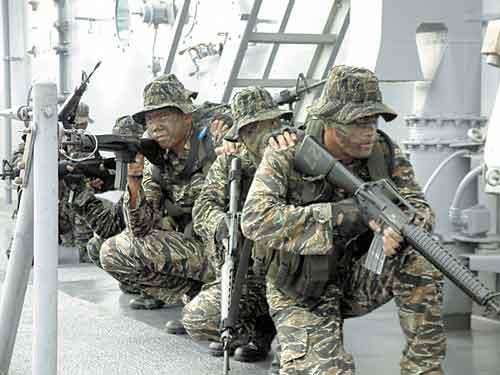 THE FEW, THE PROUD, THE MARINES
by Jaime laude, Starweek 11.11.2007
"We will be striking the first hammer blow in forging the cutting edge of the Armed Forces."
Fifty-seven years ago, Lieutenant Senior Grade (LtSg) Manuel Lopez made this declaration that gave birth to an elite military strike force composed of 206 World War II volunteers commanded by six officers.
This pioneering band of brothers may have faded into the shadows of military history but the countless glorious victories they've earned for the unit in the battlefield serve to inspire its now massive force of 7,733 enlisted personnel and 424 seasoned officers, including current comman-dant Maj. Gen. Ben Dolorfino.
They are the Philippine Marine Corps (PMAR), "Your Marines," Dolorfino describes his men, and they tell their tale as it is – as it happened from the time they were called on to deal with the Huks and dissidents, to its transformation into a conventional fighting force that can be deployed anywhere in the country, against any form of enemy.
From its creation in November 1950 as "A" Marine Company led by Lopez, members of the Corps have upheld a tradition of excellence which has instilled reverence, fear, and uncommon respect among foes and friends alike.
"Our role now is just like before when then Defense Secretary Ramon Magsaysay formed and dispatched Marines to go after the Hukbalahaps. When there's major trouble in any part of the country, your Marines are first to be called in," Dolorfino says.
The Marines suffered a huge blow last July when a convoy of its men searching for a kidnapped Italian priest was ambushed in Tipo-Tipo, Basilan. A chaotic battle ensued, leaving 14 soldiers dead, 10 of them beheaded by the enemies.
Eight days later, 15 Marines, including five junior officers, were killed battling the Abu Sayyaf and the separatist Moro Islamic Liberation Front (MILF) in Unkaya Pukan, also in the Basilan.
Despite the tragic setback, the Marines displayed uncommon gallantry and professional conduct as they carried on with their mission. They were lauded by their commandant and cited by the US Joint Special Operations Task Force commander for their discipline and professionalism in not exacting revenge for the treachery of the enemy.
"As we now play a key role in dealing with the terrorists in Basilan and Sulu, our troops are guided to seek justice but not revenge for our fallen comrades," Dolorfino says.
"Had our Marines not been trained to be people-oriented, had they not been disciplined to fight only the armed enemies under any circumstances, had the importance and value of peace not been instilled in them, carnage could have ensued," he adds.
The campaign against terrorism and insurgents may be a major part of the Marines' life, but throughout the years they have also evolved into an indispensable unit of the Armed Forces of the Philippines, capable of performing other tasks assigned by higher headquarters.
One example, he recalls, was when the Marines were deployed in Metro Manila to check on the series of bank robberies and kidnap-for-ransom activities, tasks the soldiers were tasked to handle in Basilan and Sulu back in the early 1990s.
The Marines were also dispatched to the Bureau of Customs to help address rampant smuggling activities in Manila, and to Negros where the unit launched a province-wide search and destroy operation, not against insurgents, but to help farmers get rid of the rat infestation that hit the agricultural province.
"The Marines have become the nation's choice of force. Its services have become indispensable, especially in any seaborne and amphibious military assault operations," boasts Dolorfino.
The totality of a Marine's life, Dolorfino says, make them one of the best, if not the best, of the lot.
Their training, discipline and the values consistently instilled in each member of the Corps are the stuff legends are made of. And when the smoke clears in the battlefield, the Marines leave behind stories of valor, love and respect and the will to survive, stories which come not from the soldiers but from the people whose lives they have touched.
As a young graduate of the Philippine Military Academy (PMA) Class of 1976, Dolorfino admits he was never commissioned as a Marine officer, but to the Philippine Navy as a helicopter pilot of the Naval Aviation Group.
His exposure to the Marines while providing air support and airlifting wounded troops out of Lanao intrigued him and moved him to join and embrace the Corps.
The brotherhood and camaraderie, the discipline and gallantry under severe combat conditions shown by every Marine so impressed him that when an opportunity came to be part of the unit, he grabbed it against the advise of senior and fellow Navy officers.
"Ang ganda ganda na ng buhay mo sa Navy, pahihirapan mo pa ang sarili mo. Gusto mo na bang magpakamatay? (You have a good life in the Navy yet you want to make life harder for you. Are you suicidal?)," Dolorfino quotes one of his senior Navy officers then as telling him.
When he joined the Corps, Dolorfino recounts that the unit was then in the thick of fighting a two-pronged war in Mindanao – one against the communist New People's Army (NPA) and another against the Moro National Liberation Front (MNLF), once the largest separatist Muslim rebel movement in the country.
Having fought and won so many battles in the South, Dolorfino remembers not the victories his unit had against the enemies but how he watched one of his men die from loss of blood because the helicopter that was supposed to airlift the wounded soldier to the hospital was being used by a more senior officer – not for combat, but to catch a tennis tournament.
"It was a very painful experience for me," he says. "Napakasakit and an unforgettable experience."
In the past the Marines had only to deal with the Huk resistance along the coastlines of Bulacan, the dissidents in Nueva Ecija, Bicol and Catanduanes where the unit conducted its first amphibious raid; today it has become an indispensable unit in the fight against the enemies of state.
The campaign against the Abu Sayyaf and the MILF further forced the Corps to train its men not only to become fighting machines, but also to be professional, compassionate and loving soldiers.
Dolorfino, a Muslim convert, believes that the military solution to the problem in Mindanao is only temporary. He stresses it would be beneficial for everyone if the roots of the problem, such as cultural, religious, socio-political and economics issues, are addressed by all stakeholders.
"Your Marines are trained to fight, anytime, anywhere," Dolorfino says, but points out that "if there's anyone who wants all this fighting to stop, it's the soldiers themselves."
While hoping for peace to reign in troubled Mindanao, Dolorfino said the Marines will continue to perform its mandated tasks, even if it is short-term.
"The military approach to the problem in Mindanao is only a temporary tool for a peaceful and lasting solution to the problem which would come through dialogues," he says.
Even in fighting terrorism in the form of the Abu Sayyaf and the regional network Jemaah Islamiyah, Dolorfino says the military "cannot do it alone."
"We can only be effective in addressing the problem if there is an involvement of all the stakeholders," he points out, such as local governments and residents themselves, adding this would drain the terrorists of their mass base and financial support.
"Win back their supporters and these terrorists can be easily neutralized," he insists, adding that this is now being done by bringing development projects to troubled areas like Sulu and Basilan.
The AFP's elite fighting force has three brigades, one combat support brigade, 11 battalions, four Force Recom Companies, a Marine Company Training Unit and a Marine Rifle Battalion.
Their motto is Karangalan, Katungkulan and Kabayanihan, and they have updated the catchy slogan "The Few, the Proud, the Marines" by adding – at Dolorfino's suggestion' – "Makatao, Matatag at Maasaahan." Their legendary fighting prowess, however, has led to one other slogan: "Muscles Required, Intelligence Non Essential."
But instead of feeling slighted, members of the Corps simply laugh, proud of their combat skills and courage on the battlefield.
Taking exception to the "Tell it to the Marines" joke, Dolorfino says it's only the Marines who can distinguish truth from lies.
"Behind battle-scarred Marine uniforms are no robots. They're kind-hearted people who know how to cry, laugh and bleed. Most all, your Marines are most willing warriors who would sacrifice their lives for the safety of everybody," Dolorfino reiterates.
And they can sing too.
"Where can you find a singing quartet with five members performing? It's only in the Marines," Dolofino says of the Marine Quartet Band.
"Sometimes they're even six of them!" says former Marine spokesman Lt. Col. Ariel Caculitan in a recent media gathering at Camp Aguinaldo, triggering laughter and applause.
On a serious note, Dolorfino says many challenges lie ahead for the Corps. "As we celebrate our 57th birthday this month, we at the Marines should be looking onward as well as backwards."
Doing so, he says, would make all members of the Corps informed and help attain its future goals and missions, at the same time continue to learn from past experiences.
He also urges the Corps to look inward and examine themselves if they are still the best in the force, using as gauge his three-point command program of being people-oriented, institutionally stable and operationally strong.
He also emphasizes to members of the Corps that being part of the AFP means they should remain apolitical and must be true guardians and defenders of the people and the democratic institutions.
Describing EDSA 1 and EDSA 2 as undemocratic processes, Dolorfino nevertheless takes pride in the Corps' loyalty to constitutional authority for being the last military unit to join the bloodless uprisings that ousted two presidents.
"We were the last military unit to join these uprisings but we were also the first military unit to be called in to secure and protect then former President Corazon Aquino," says. "We should be always on track. We should not go down from the pedestal of being the best in soldiery," Dolorfino ends.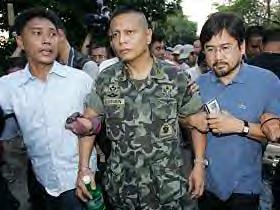 DOES MEDAL OF VALOR GIVE IMMUNITY TO MUTINEERS?

MANILA, JULY 27, 2006 (STAR) By Jaime Laude - Is the "Medal of Valor" an immunity for mutineers?

The question was raised by military prosecutors over the possible outcome of the trial of two decorated officers implicated in the Feb. 24 failed coup attempt.

This early, military and civilian lawyers apparently realized the prosecution of Marine Col. Ariel Querubin and Lt. Col. Custodio Parcon could be a litmus test for the government in trying the two Medal of Valor awardees for their alleged involvement in the failed coup attempt.

Military and civilian lawyers conceded the two officers enjoy some protection and privilege since they have received the highest award the military can give to any deserving soldier.

Having the highest military combat award, Medal of Valor awardees, under existing laws enjoy enormous protection and privileges offered by the state, which include a P20,000 additional allowance on top of his salary and other benefits.

Also known as Medal of Honor, the Medal of Valor awardees, by law and military tradition are accorded the highest respect in the land that even the President and other elected officials of the land are required to salute them first.

"Granting if these officers are convicted of the crimes now attributed to them, how can the court possibly dishonorably discharge them as the honor awarded to them by the President is very specific... and that the award and the honors that go with it is for life…" a senior military lawyer said.

Querubin and Parcon, along with 38 other officers from the Marine Corps and the Army's elite First Scout Ranger Regiment, have been implicated in the alleged power grab that forced President Arroyo to place the entire country under a state of emergency.

A total of 165 officers and soldiers have been named in the coup plot and were recommended to face a pre-trial investigation that could possibly put them under court-martial proceedings.

While agreeing that being a Medal of Valor awardee is not a guarantee against administrative and criminal suits, the lawyer said the end result of these legal proceedings remains to be seen.

"A Valor awardee could be charged. Pero, malabo mag-prosper ang mga ordinaryong kaso kasi sa pre-trial pa lang siguradong laglag na yan," he said.

Seeing a stalemate scenario, the military lawyer said Valor awardees on trial could even dictate the tempo of the proceedings against them.

"What happens when a Medal of Valor awardee enters a military courtroom wearing his medal. Of course, members of the military tribunal are required to salute him and offer him all the courtesy due him and his medal," the lawyer said.

He said the scenario can be made possible since the Valor awardee can always invoke to his advantage all the privileges accorded to him by law, either inside the courtroom or any of his activities.

"When this privilege is invoked at the pre-trial stage, the case filed against a Valor awardee is as good as dead," he stressed.

The lawyer cited the case of the late strongman Ferdinand Marcos who was never disowned of his medals and citations even after he was disgraced from power in 1986.

Marcos earned the Medal of Valor while serving as an intelligence officer during World War II in Bataan against the overwhelming Japanese imperial troops.

Surviving awardees like Lt. Col. Arturo Ortiz and Lt. Col. Bartolome Bacarro, echoed the same observation. They said the Valor award has lifetime privileges.

"Hindi na pwede itong bawiin dahil ibinigay ito dahil sa mga ginagawa mo," said Bacarro, who earned his Valor award after he repelled a large force of New People's Army (NPA) communist insurgents in Cagayan Valley while he was still a young lieutenant.

Ortiz also agreed the award carries a lifetime privilege. But he conceded the award is not a shield against prosecution in committing any offense. — With Cecille Suerte Felipe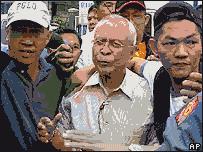 Please fade away

DOUGLAS MacArthur may have famously quoted the old West Point barracks song, "Old soldiers never die, they just fade away," but retired Maj. Gen. Fortunato Abat simply refuses to fade away. In our acronym-obsessed culture, it was perhaps unintended, but one such acronym chosen by his colleagues in the past, ANTS (for Alliance of National Transformation and Solidarity), seems appropriate. Abat has a proud reputation among his military peers of being a straight-shooter and he is known for discipline and his insistence on well-trained personnel, as well as the development programs which he instituted. However, as political amateur, his record is reckless and downright sinister.

At first blush, Abat's reading of our nation's current situation is correct: "Traditional politics has become the major stumbling block in the socioeconomic

advancement of the country. Social inequities have given rise to insurgencies, criminal and terrorist violence holding hostage our forward development," he has said. People, too, can applaud his statement that "I am not for a coup d'état. I'm not for a military takeover-I abhor it," as any right-minded person should. What is all wrong is Abat's prescription for curing the country's ills: installing a junta, or waging a revolution, whether sooner or later.

The impractical and dangerous nature of the call made by Abat is best demonstrated by the manner in which his "revolutionary" convention at the Club Filipino fell apart over the question of a tactical alliance with militant groups. At the same time, from Utrecht in the Netherlands, came a call from Communist Party of the Philippines founder Jose Ma. Sison, basically endorsing the same sort of scheme Abat had cooked up. If Abat ended up walking out of his Club Filipino gabfest over what to him looked like a scandalous idea of a fair-weather alliance with militants, then Sison's endorsement of his ideas should prove beyond a shadow of a doubt just how easily his idea of setting up a junta can play into the hands of the very insurgency he detests.

Former President Fidel V. Ramos put it best when he recently said of Abat and friends: "They are doing a great disservice to our country. This will hurt everybody. Let us not panic. Let us stay united ... Let us not believe these so-called messiahs who think they have the answers to the problems of this country." Ramos went on to point out that Abat was a "former Marcos man" (but then, so was Ramos), and crucially, that Abat "never joined Edsa I. He was with Ver (Ferdinand Marcos' military chief, Gen. Fabian Ver) fighting us during the People Power Revolution."

However, Abat's mistake apparently did not prevent Ramos from later appointing him as his defense secretary, boosting Abat's prominence and credibility. So while the country should welcome Ramos' clear denunciation of coup plots and junta schemes, he must also own up to having created the political freak that Abat has become.

The current incarnation of Abat's ANTS is now known as the Coalition for National Salvation, with the unamusing acronym of CNS. Its demands, as we've pointed out, are not only ambiguous but outright dangerous to democracy and genuine reform. And yet, why did its actions result in coup jitters and a flurry of statements and counter-statements? Its actions caused alarm due to the basic truth in its primary allegation, as explained in Abat's statement: our system is a mess, and our officials are making a mess of things.

However, in its desire for an extra-constitutional, radical and authoritarian solution, CNS has shown itself to be far removed from the mentality of the public it claims to serve. One does not have to be a fan of former President Corazon Aquino to know that the only way to "restore democracy [is] by the ways of democracy," as she put it. And that way is charted through elections-messy, frustrating and easily susceptible to corruption as that way may be.

Two landmarks in the path to change are the local elections in 2007 and the national elections in 2010. There, all groups can surely find the means to exert pressure on an unsatisfactory status quo. The present administration, the most unpopular in the history of measured public opinion, will depend on the 2007 elections for its political survival. Two years from now is ample time to prepare for an overwhelming, clear and unquestionable referendum on its policies and governance.

#

Philippine Daily Inquirer Editorial (05/05/05)
Soldiers

When you enter the military service, you must be prepared to die for your country. In the Philippines, military life is often short-lived, because for the past five years, almost every day, at least one soldier is killed in combat duty. Today, the lowest-ranking soldier earns a little more than eight thousand a month. To some of us, that is even less than what we pay for the latest mobile phone. Yet, for that amount, a foot soldier signs on the dotted line, a contract to die for the sake of the motherland and his countrymen.

We seldom talk about our soldiers as people. Ask the youth about heroism and they will tell you about Flor Contemplacion, Sarah Balabagan and the hordes of Filipinos leaving to work abroad. The Filipino soldier is an authentic national hero who is often taken for granted by the people he serves. Listen to the voices of three soldiers who received the medal of valor. To earn this award, he or she must have been involved in actual conflict with armed enemies, exhibiting gallantry and intrepidity while risking life above and beyond the call of duty.

First Lt. Herbert Dilag, the Philippine Army: "Nagising kami 2 a.m., lakad na naman kami. Wala kaming tulog talaga, pagkatapos maulan pa. Mabagal yung lakad kasi walang daanan pagkatapos magubat. There are instances na iyung isang kamay namin nakahawak sa ugat ng kahoy, iyong isa bumabaril. For the next 24 hours, tiniis namin yung terrain, hunger, tension, fatigue. Pagkatapos marinig mo yung halinghing ng wounded na kasama mo na magsasabi: Sir, atras na tayo, masakit na paa ko, Sir, mabubuhay pa ako, mga ganoon. Lalong lumabas ang hindi nadidiskubre na tapang sa loob."
MSG Roy Cuenca: "Pagdating ko sa detachment, ugali ko kasi na nagsisindi ng kandila sa maliit kong altar. Pagbalik ko doon, nakita ko nakabaluktot ang kandila ko, kinabahan ako. Ginawa ko, nagsindi naman ako ng isa, mga ilang minuto nagkaganun na naman. Ah, sabi ko, iba na ito. Mga alas tres ng madaling araw, bigla na lang may pumutok. Lima PAK!PAK!PAK!PAK!PAK! Yung isang rifle grenade pumasok sa bunkers ko. Nakadapa ako. Wala na akong ibang tinawag. God, tulungan mo naman ako. Bahala ka na sa buhay ko, sana takpan mo ako sa kamay mo."

Major Sorilito Sobejana: "We develop a brotherhood, hindi ko sila itinuturing na tauhan ko. I treat them as my younger brothers, though most of them are older than me. Masakit sa akin, dahil bago siya mamamatay, sabi niya, Sir, kahit anong mangyari, iparating mo ang katawan ko sa pamilya ko."

Over the last ten years, a Filipino soldier dies every other day. If the peace process in Mindanao succeeds, they would have one less battlefront to worry about. Meanwhile, the propaganda war by their enemies continues unabated through media and in Congress. In that battle of wits, the Filipino soldier is at the losing end. We dont see their faces contort in pain as bullets stop their heart from beating. We cant hear their widows weeping. Yet in the loneliest of barracks, far removed from our sedentary, comfortable lives, a soldier fights our wars for us. God knows them well by their prayers. Very few of us notice them at all. And perhaps this is why we keep on fighting the same wars, because we are so absorbed by our own lackadaisical existence that we conveniently forget how fragile it all is.
#
TOOTS OPLE
The Manila Times/ 12/10/03

The Filipino soldier


Remarks delivered by Defense Secretary Eduardo R. Ermita in celebration of the 2003 Bonifacio Day at the Philippine Army headquarters in Fort Bonifacio

THE Armed Forces of the Philippines is the inheritor of this tradition, that of a nationalist army born of the Filipino struggle for freedom.

The revolutionary forces from which the AFP traces its origin were called the Army of Liberation of the Philippines.

This is why the Philippine Army celebrates, as its founding day, the 22nd day of March, the day in 1897 that the revolu-tionists who had risen against Spain in Manila and in Central Luzon dissolved their secret society, the Katipunan, and established a Filipino Republic.

And the very first act of this nation-in-being was to organize an army of liberation.

The revolutionary Convention elected as its first Captain-General, a rank equivalent to todays Chief of Staff, a patriot so uncompromising that, long after the Filipino cause was lost, he could not reconcile himself to defeat and surrender.

That first Chief of Staff was Artemio Ricarte and, as we know, he chose long years of prison and then exile rather than pledge allegiance to the American regime.

Ordinary Filipinos fought on long after the elite had given up

That Army of Liberation of a hundred years ago was made up of everyday Filipinos then unschooled in the art of modern war.

Hence the Americans easily won the conventional war of battalion-to-brigade level engagements in the field.

Defeat in the conventional war convinced the last of the ilustrado elite to side with the Americans.

Yet Aguinaldos decision, in November 1899, to revive Bonifacios Katipunan and then resort to guerrilla warfare enabled the Filipino Republic to fight on for six more years.

As the eminent historian Onofre D. Corpuz notes, [I]n virtually every town in Luzon and the Visayas, the town-people, organized as Katipunan chapters, provided cover and shelter, provisions and men, nursing care and treatment, and courier service to the guerrilla bands in the area.

The Katipunan was also a shadow government in each town, collecting taxes for the support of the guerrillas and conducting peoples courts that tried local collaborationist of the enemy.

By attracting the loyalty of ordinary Filipinos, the guerrilla war lasted until June 1906, when five regular US Army battalions occupied the island of Leyte, leaving only small pockets of resistance in Luzon and the Visayas.

By then the Americans had committed two-thirds of their entire army, suffered 7,000 dead and wounded and spent $600 million in subduing their so-called Philippine Insurrection.

Citizen army in the Pacific War

In 1935, as we know, the Commonwealth Government of the Americans established to prepare the Filipinos for independence organized a citizen army led by professional officers from the colonial military.

During the Pacific War, this citizen-army distinguished itself at Bataan and Corregidor and in the guerrilla campaigns against the Japanese.

In the course of the Cold War, Philippine expeditionary forces also served with distinction in Korea and in Vietnam.

Unlike its aristocratic counterparts in Spains Latin-American colonies, the Filipino officer corps has never been a caste that set itself apart from mainstream society.

Historically, the Philippine Military Academy has been the ladder to middle-class status for children of the poor.

For instance, one recent PMA baron was the son of a market vendor in a small Visayan town. Another was the son of a Cebu Island policeman.

The heroism inherent in ordinary people

Hanggang ngayon, ang tatag ng AFP galing sa tahimik na pagpapakabayani ng marami sa atin.

Sa katunayan, maraming Medalya ng Kagitingan (Medal of Valor) ang iginawad sa mga ating mga ordinaryong kawal, mga kabo at mga sarhento.

Ang Medalya ng Kagitingan ay ginagawad lamang bilang pinakamataas na pagkilala sa ipinamalas na katapangan, pagkamaginoo at kabuuan ng loob.

Ngunit sa mahigit kalahating siglo, ang mga sundalong Pilipino ay nagpamalas ng walang humpay na kagitingan sa tuloy-tuloy na pakikipaglaban ng Sandatahang Lakas laban sa mga komunista at iba pang mga rebelde, mga matagal ng laban na halos nakalimutan na ng karamihan.

Sa katunayan, sa bawat makalawang araw, isang sundalong Pilipino po ang nagbubuwis ng buhay sa pakikipaglaban sa anumang sulok ng kapuluan.

At ang kaniyang kamatayan ay di alam ng karamihan, maliban sa kaniyang pamilya, kaibigan at kasamahan sa labanan.

Our own task is to make this country fit for heroes to live in.

This is why we have decided to awaken our country and our people to these quiet sacrifices our soldiers make every day for its safety and its tranquillity.

As Bonifacio, Rizal and their generation offered up their lives for their countrys sake, so are soldiers today doing the same without hope of reward, but as a simple duty.

So, on this solemn day dedicated to the Great Plebeian the model of the ordinary Filipino who rose to heroism when the call of duty came let us rededicate ourselves to the cause of our country and our people.

For our heroes of a hundred years ago, the challenge was that of founding a Filipino nation.

Today our challenge is to make this country the inalienable home of the Filipino nation, a country fit for heroes to live in.

Just as ordinary people the Katipuneros of Bonifacios time rose to heroism in the crucible of revolution, so can we rise above our everyday concerns by taking up our share of the civic burden.

Every citizen can make a difference and if we pull together, we can lift up the common life and raise our country to the dignity it deserves in the community of nations.

Ito pong responsibilidad na ito, hindi na po natin maaaring ipaubaya sa susunod na henerasyon.

Sino pa ba kundi tayo rin ang dapat magtuwid ng ating kapalaran?

Sino pa ba kundi tayo rin ang dapat na magbuo muli ng isang lipunan at mamamayang may pagkakaisa?

Gaya ng ninais nina Rizal at Bonifacio isang siglo na ang nakakaraan, ngayon na ang panahon upang magkaisa tayong muli, kung nais nating mailigtas ang ating mag sarili. Pagbabago ang dapat na mamayani.

Ang ating kinabukasan, ang kinabukasan ng ating mga kabataan ay nakasalalay sa ating mga kamay.

On the occasion therefore of Bonifacio Day, let us make the resolve to reconcile and unite as one people, and continue our quest for a much brighter future. Let us remember that there is no better service on this day than to remind our people who have forgotten our present-day heroes: The Filipino soldier.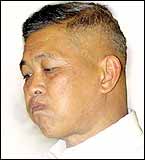 ISAFP Chief's B/Gen. Victor Corpus' resignation

THE RESIGNATION of Brigadier General Victor Corpuz as head of military intelligence is a big blow to the Armed Forces of the Philippines and the government as a whole. The administration of President Gloria Macapagal-Arroyo caved in to the demands of the mutineers but in doing so puts the country in greater danger.

I am a Special Forces Officer currently assigned in Zamboanga City and I am one of the officers approached by the dreamy-eyed plotters regarding the so-called national recovery program of Senator Gregorio Honasan. I turned down their invitation to join them in the misadventure to topple the government.

General Corpus nipped in the bud the diabolical plan and thus the plotters panicked and did the unthinkable. The plan was to re-install Joseph Estrada and force him to resign several days later and replaced by Senator Honasan as head of a ruling civilian-military Junta. Many junior military officers were misled as well as enlisted men by false promises. They cited the Congress-approved pay increase that was not implemented and that the money was being kept in the bank with generals keeping the interest income for themselves, and the huge disparity in salaries between personnel of the Philippine National Police and the soldiers.

I could cite a very long list of supposed issues that were neglected by the present administration but due to space constraints I will not, but allow me to say that the issues were nothing but conjectures and malicious innuendos and accusations concocted by people with a sinister agenda.

Many junior military officers in Mindanao, especially those with the Army Scout Rangers and almost all the "Sky Flakes" (SF, for Special Forces) were sympathetic to the so-called noble cause. But the people who promised to provide the group with warm bodies for support did not deliver and so the Coup-medy went pfft.

General Corpus should have been retained in his post. Letting him go is no way to treat an officer and a gentleman who did his job right, to the detriment of the few so-called patriotic officers he crossed by exposing their shenanigans.

#080103

CAPT. JOSEPH BERNARD SALAZAR, PA (SFG) AIRBORNE

Why I left the military

Many people ask me why I left the military service for the civilian world. Quite often, I reply "Why not?" in a dismissive tone to avoid a long and impassioned explanation. After three years out of uniform, I think I now have a better perspective to be able to answer the question with more certainty and fervidness.
What drove me to end what some say was a promising military career?
Let me emphasize that the decision to resign was mine alone and says nothing of the profession of arms, which I will always hold in the highest esteem, or about the men and women still in the service. Being a soldier is, I believe, one of the noblest professions, and I am privileged to have been one. However, we all have our lives to live, and mine just turned to a different path.
Many think my resignation was due to pressure from senior officers. Rightly so, as my career was certainly not a dull one. I had my share of combat as a Scout Ranger; had been under arrest for involvement in a coup attempt; represented the government in international conferences; was a studious lecturer and editor of several publications. And I was the son of a general turned communist rebel.
As a young officer, I used the power of the pen to question things that were not right in the Armed Forces of the Philippines--incompetence, corruption, lack of strategic direction, and unprofessionalism. My writings were a voice in the wilderness, but the criticisms earned me a reputation as a rebel officer--too honest and too frank for my own good. I really thought reforms could be achieved through intellectual honesty and awareness.
Nonetheless, I was not coerced to resign because of my critical commentaries. Neither did the situation of my father, General Raymundo Jarque, drive me into it. It was not an impulsive decision but a slow process of maturation and discernment. I realized that the prevailing environment in the AFP was no longer acceptable to my sense of duty and honor, that there was more to life than being a soldier in serving the country and people. To fulfill that, I needed to live outside of the uniform.
My last assignment was as special assistant to the secretary of national defense, to whom I gave my resignation letter. The following excerpts show the mix of hope and frustration over why I left:
"Sir: I have decided to leave the military service. After 16 years as a soldier, I feel that it is time to change course and seek greater challenges and opportunitiesto seek greener pastures.
I feel that the military is already too constrictingand no longer offers the kind of professional growth that I envision. Becoming a general is no longer an exciting prospect for me considering the kind of officers being promoted to general rank. As many officers say, 'snappy, shabby, the same salary at napo-promote din naman'
"I have always believed that being an officer is a noble vocation, but what I have seen are officers who take advantage of the system for selfish and unethical purposes and undercut each other for promotion and assignments. I always thought that being an officer is a public trust--that an officer does not lie, cheat, steal or tolerate those who do. But what I have seen are officers who would not hesitate to lie to advance themselves and cheat the taxpayers of their money.
"I believe in performance and accountability. I believe in competence and moral courage. I believe in honesty and hard work. I believe in transparency and candor. I have found these rare in the Armed Forces and I would like to seek them somewhere else."
Looking back, despite all the hardships and frustrations, I believe it was all worth it. I learned a great deal as a soldier. From the negatives, ironically I learned the positives. From the dishonesty of some officers, I came to appreciate the virtue of honesty. From the corruption I saw, I learned about principles and moral courage; from the hardships in training, about teamwork and strength of purpose; from defeat in battle, humility; from suffering and death, about compassion and mortality.
From the positives, I learned to grow. From honest and motivated soldiers, I learned about leadership; from my fellow officers, about camaraderie and friendship; from the little things I had, about simplicity and frugality. Above all, from being a cadet and a soldier, I learned about duty, honor, and country.
The greatest gift military service gave me was character. Two other important lessons were leadership and the spirit of service. Now that I am a civilian, I value these lessons and they serve as beacons in my new career. They guide me in finding my path down the future. What I miss is the spirit of service, that feeling that whatever you do is something noble and for the greater good.
Today, I sometimes miss wearing the uniform. I miss the soldierly camaraderie, that fellowship which made me feel I belonged to something. I turn to my experiences as a platoon leader and company commander in dealing with corporate leadership and management issues. At times, I long for the simple yet noble life of a soldier.
As the saying goes, "Once a soldier, always a soldier."

# Rene Jarque
USMA West Point Class 1986

Note: Reprinted from Newsbreak